This article will detail the steps to customize the default watermark associated with your CapLinked Team.
Editing your team's watermark will cause all watermarks across all workspaces in that team to inherit your customization. These watermarks will apply to watermarks both in the web fileviewer and upon download. Note that only the Team Super-Admin can customize the team's watermark.
To customize your team's watermark, follow these steps:
1. Starting from the dashboard (click the home icon on the top-left), click to enter your Team on the left side of the page under "My Teams"
2. Click "Team Settings"
3. Click "Watermark Settings"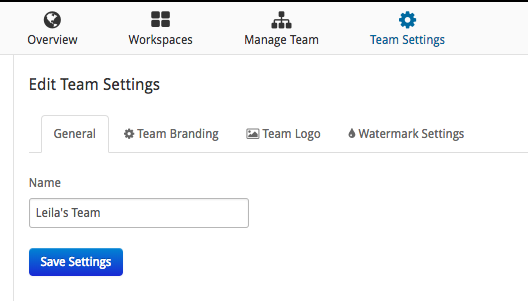 4. Make edits as desired to watermark characteristics such as Font size, Opacity (transparency), Rotation, Color, Vertical Position, Horizontal Position, and Watermark Elements. Selecting the "Workspace Name" watermark element will include the workspace's name associated with the watermarked file in question. "Custom Text" can include text, such as "CONFIDENTIAL."
Make additional edits as necessary across the Top, Center, and Bottom watermarks, and click the green "Save Settings" button when finished.