What is the "Copy to Workspace" Feature?
The "Copy to Workspace" feature allows workspace administrators to copy files and folders between different workspaces.
Only workspaces that belong to the same team are available for copying. Additionally, to use the copy feature, you must a workspace administrator to both workspaces to be able to copy from one workspace to the other.
How to Copy From One Workspace to Another
1. Select into the workspace that you'd like to copy from

2. Navigate to the Files page and locate the file or folder that you'd like to copy to another workspace
3. Select the drop down arrow to the right of the desired file or folder
4. Select "Copy to Workspace" and select the desired destination workspace from the drop-down options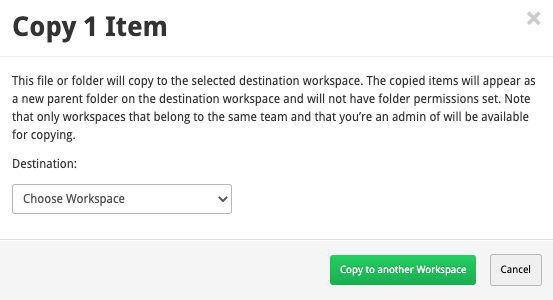 5. Select "Copy to another workspace"
6. The selected file or folder will then be copied to the selected destination workspace. The copied items will appear as a new parent folder on the destination workspace and will not have folder permissions set.