How to Request a Workspace Deletion?
Workspace admins can now request a workspace deletion from within the workspace.
To initiate a workspace deletion, follow the steps below:
1. Navigate to the Settings page within the workspace.
2. Select "Delete Workspace" at the bottom of the page.

3. Select the checkbox to confirm that all necessary data has been retained from the workspace.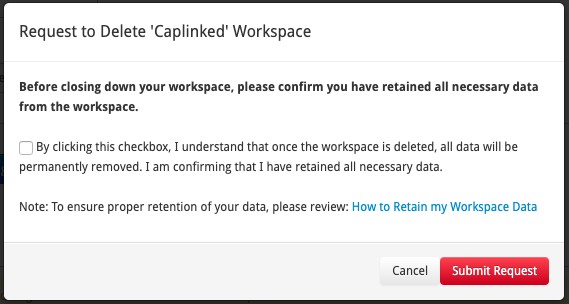 4. Select "Submit Request."
Email Notification to Workspace Admins
Once the request has been submitted, all workspace admins will receive an email notification that a deletion request has been initiated.
The deletion request will be processed within 48 hours (2 business days) of the initial submission.
Deletion Request Submitted
Before the workspace is deleted, the Settings page will show the date and time that the workspace deletion request was submitted.

For any questions regarding a workspace deletion, please contact support@caplinked.com.