I. How to Export Contacts as a CSV
You can quickly export your Gmail Contacts list into a CSV file. Here's how:
1. Sign in to Gmail.
2. Click Gmail at the top-left corner of your Gmail page, then choose Google Apps on the top-right.
3. Select Contacts.
4. Select Export.
5. Choose whether to export all contacts or only one group.
6. Select the format in which you'd like to export your contacts' information. Please note that some of these formats can lose some contact information.
7. To transfer contacts between Google accounts, use the Google CSV format. This is the recommended way to back up your Google Contacts.
8. Click Export.
9. Choose Save to Disk then click OK.
10. Select a location to save your file, and click OK.
Depending on the requirements of the program to which you're exporting your contacts from Gmail, you can easily edit the file to fit your needs.
Outlook
You can export contacts to a file that can then be imported into other applications, such as Web mail clients, Excel spreadsheets, or database applications.
The most common export file format is a comma separated value (CSV) file. If you are exporting contacts for use in another copy of Outlook, we recommend that you choose an Outlook Data File (.pst) in step 6 below.
1. Click the File tab
2. Click Options
3. Click Advanced
4. Under Export, click Export
5. In the Import and Export Wizard, click Export to a file, and then click Next
6. Under Create a file of type, select the export type as CSV
7. Under Select folder to export from, select the contact folder that you want to export, and then click Next
9. Under Select folder to export from, select the contact folder that you want to export, and then click Next
10. Under Save exported file as, click Browse, select a destination folder, and in the File name box, type a name for the file
11. Click OK
12. In the Export to a File dialog box, click Next
13. Click Finish
II. Formatting the CSV
If you are generating a .csv file from a source other than Outlook, make sure that the file includes a header row that includes entries for 'first_name,' 'last_name,' and 'email.' To do this, open the CSV File, and verify that the proper header entries are in row 1. If the fields are named something else (e.g. 'Given Name', 'Email', etc.), you will have to re-name them.
Save the document as a Comma Separated Value (csv.) file type

III. Uploading Contacts Into CapLinked
From the CapLinked Dashboard, click "Contacts" on the left side, then click "Import from CSV" to get the following prompt.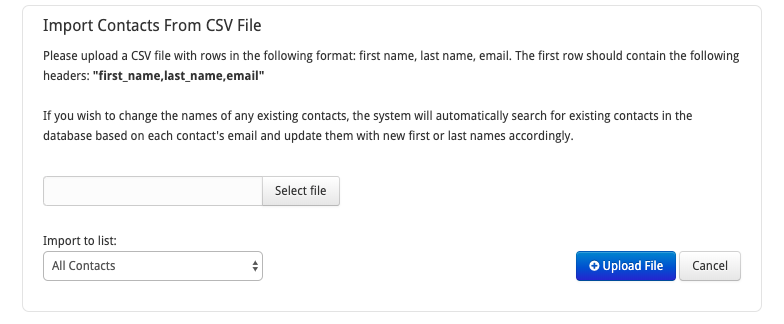 Click "Select file," and upload the contact list. By default, it will upload to All Contacts, but optionally you can create contact lists to further organize your contacts.
If you receive the error below, please ensure that your email addresses do not contain any special characters after the domain with the exception of a period. If you continue to receive this error after making the proper changes, please contact support@caplinked.com for assistance.

How to Create Contact Groups
If you would like to create groups within your Contacts list, you can do so by following these steps:
1. Go to your CapLinked Dashboard
2. Select "Contacts"
3. Select "Create List"
4. Enter list name and select "Add"
5. Select "Import from CSV"
6. Select "Import to list" dropdown menu
7. Select your new list
8. Select "Select File" and upload your CSV file
You will see all of your lists on the Permissions page during the Invite stage.