Advanced Search Feature
CapLinked is enabled with Advanced Search capabilities, which means that you can search for files within a workspace by entering exact words or phrases in a search field.
To get started, navigate to your Files page within the workspace and select the downward arrow next to the search bar to get the advanced search options.

"Find Files With" Option
1.) The first field is mandatory to enable advanced search. It must contain an exact word or an exact phrase within the content of the file you are searching for.

For example, we can search the word "Marketing" and we will find all files that contain this word.
You can also search an exact phrase, for example: "Marketing strategy for 2016." Only files that contain this exact phrase will be generated.
2.) If you are not certain of the exact phrase, you can search by key words. For example, enter "Marketing" in the first field and "Strategy" in the second field. All files that contain the words "Marketing" and "Strategy" will generate.

3.) You may add an additional word to be included in your search. For example, you may enter "2016." Only files that contain the words Marketing (first field), Strategy (second field), and 2016 (third field) will appear.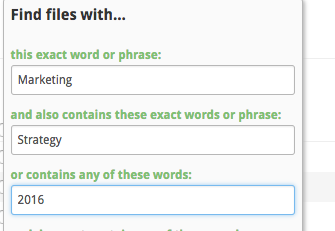 4.) The fourth search field allows you to exclude words from your search. For example, if you enter the words "December contracts," no files containing these words will generate in your search.
How to Narrow Your Results
You may search for a file by the date the file was created by selecting the drop-down menu next to "Created At." You also have more options to search for files by their Updated Status, Viewed Status, or Downloaded Status.