What is DRM?
DRM, or Digital Rights Management, is a feature that requires non-admin workspace members that download a document to enter their CapLinked credentials before viewing a document. Please note that all file types will be converted to PDF upon download if DRM is applied.
How to I manage DRM?
DRM is managed from the Permissions page. When you select a member group, you will see the option to Enable DRM on the right. You can enable DRM for that group, which means when those users download a document, it will be DRM-protected and they will have to enter their credentials in order to view it. You will have the option to revoke access to the document at any time, or to set a date at which access will be revoked.
Note: DRM requires a file to be viewable in the browser (processed successfully) to apply upon download. If a file is not viewable in the browser and DRM is enabled, the download will fail for that file.
Important: if you revoke access, versions of the document that have already been downloaded will no longer be openable.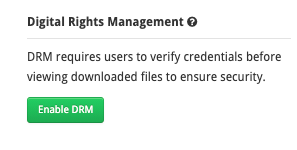 What will my workspace members experience with DRM activated?
Non-admin members with DRM activated for their respective group will view the workspace inside of CapLinked normally. When they download a file or multiple files, a .zip folder will be created on their Downloads page. The document will appear as a normal PDF file. However, they will be prompted to enter their credentials before they view. The email and password they enter will be the same as those they enter when logging into CapLinked. If they enter the credentials correctly, they can open the document.
How is DRM working under the hood?
Once you create a Permissions group and enable DRM for that group, any applicable files will have an added layer of security that eternally links to each file. When a user goes to open a downloaded file, their computer will communicate with CapLinked servers. If their credentials and access levels match the ones stored on CapLinked for their respective permissions groups, they will be able to successfully open the document. If there is a discrepancy, (e.g. view or download permissions have changed) or access has been revoked, they will be unable to open the document.
What should I do if a workspace member cannot open a DRM document?
Please reference: Opening DRM-protected Documents