Expiring Workspace Access will remove all folder permissions for the selected group only on the selected expiration date at midnight UTC. 
To automatically expire workspace access for a group, follow these steps:
Log into your workspace and navigate to the Permissions page

Select the custom group which you'd like to expire workspace access

On the right-hand side, select "Expire Workspace Access"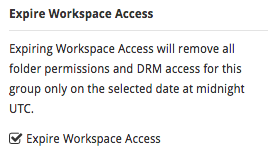 4. Once you have enabled the feature, you will then set an expiration date for the group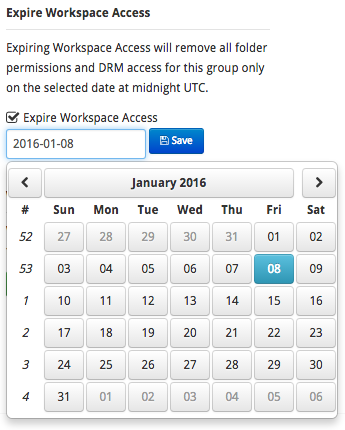 5. After you set your expiration date, select "Save".
Note, once the group's expiration date is reached, all of the members will remain in the group and all of the folder permissions for that group (View, Download, Upload) will be disabled. All watermarking settings will be saved and if DRM is activated for this group, access to DRM documents will also be revoked.
Contact support@caplinked.com if you need any further assistance.