Custom Email Server
There is an option to use your own email server to send invites, updates, and notification emails regarding your team and workspaces.
In order to use your own email server, you'll need to configure the email settings to send emails via SMTP (simple mail transfer protocol), which is an email standard that secures emails with SSL security protection.
How to Set Up Custom Email Server
To set up your custom email server, go to your Dashboard on CapLinked > Select your team name on the left under My Teams > Team Settings > Custom Email Server > Input the data in the required fields > Save Settings.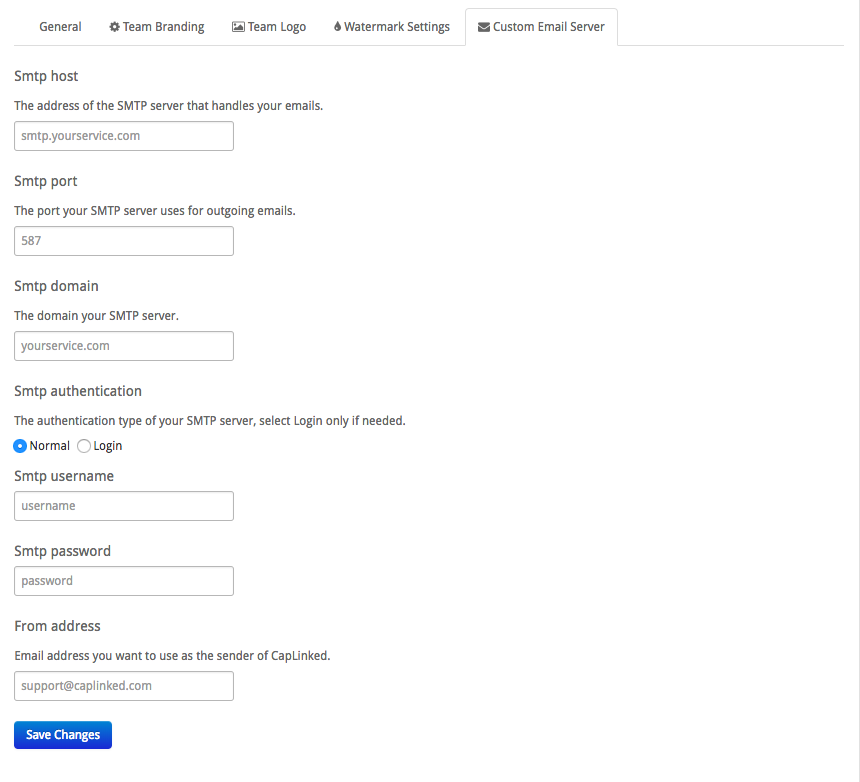 The following is a list of the email settings information you will need:
Smtp host (The address of the SMTP server that handles your emails.)
Smtp port (The port your SMTP server uses for outgoing emails.)
Smtp domain (The domain your SMTP server.)
Smtp authentication (The authentication type of your SMTP server, select Login only if needed.)
Smtp username
Smtp password
From address (Email address you want to use as the sender of CapLinked.)
Note: If your email service has a whitelist of email addresses that are allowed to send email, be sure to whitelist the email address that you put in the From Address field to ensure you and your workspace members receive all emails from CapLinked.